Overview
Alphacen 300 – The tip-scanning AFM for heavy and large samples up to 300 mm
Standard AFM system
300 mm x 300 mm sample stage
Ideal for samples up to 45 kg
Nanosurf is the market leader for custom developed systems for large and heavy samples. Over the past years our team has built a substantial knowledge base developing these custom stages for various customers.
Utilizing this vast body of knowledge, we have now developed a standard product for large samples up to 300 mm or heavy samples up to 45 kg. The Alphacen 300 reduces the price and the delivery time compared to a custom system.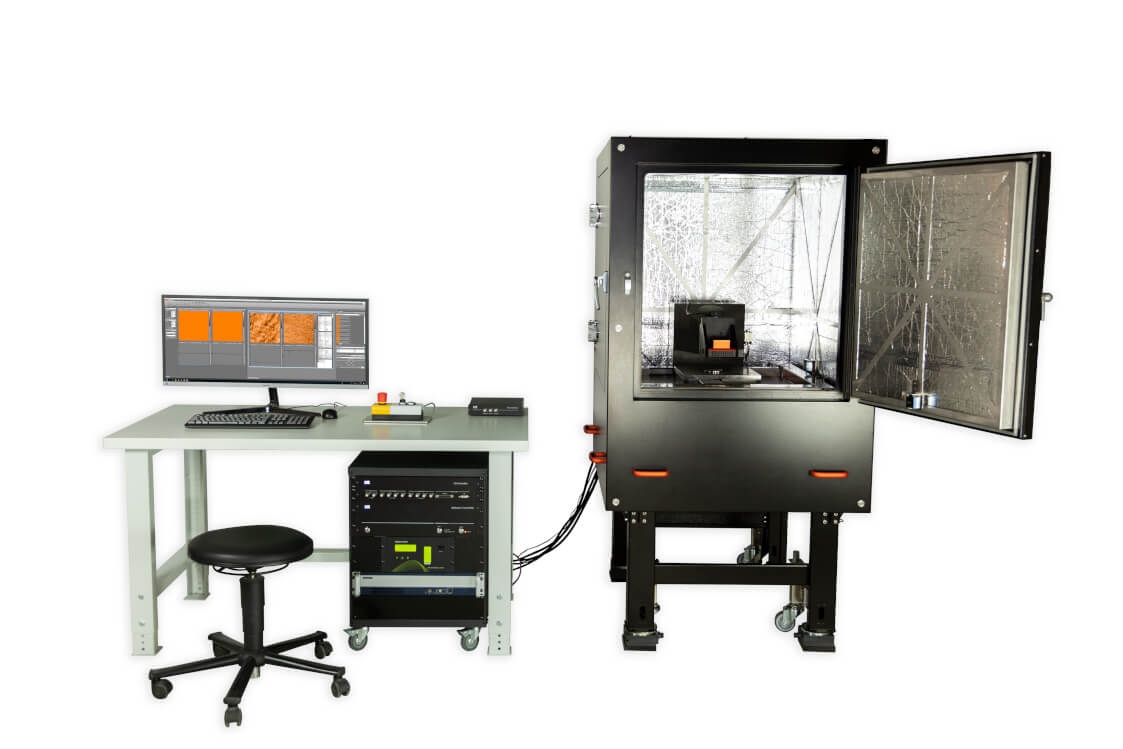 This is a recording of the demonstration about Alphacen 300, the large sample AFM from Nanosurf. Dr. Christian Bippes, Application scientist conducts the demonstration during which he highlights the features of the Alphacen 300. The Alphacen 300 system can access a sample area of 300 mm x 300 mm. The system is designed to handle large and heavy samples (up to 45kg). During this demo, Dr. Bippes shows how the Alphacen 300 is operated, including sample loading, approach and imaging of a sample surface.
Download the Alphacen 300 brochure
Run automated measurement series
The Alphacen 300 includes powerful automation software that allows the user to preselect the locations of interest, either on an optical image or a stage map, and let the system collect the images with no user intervention.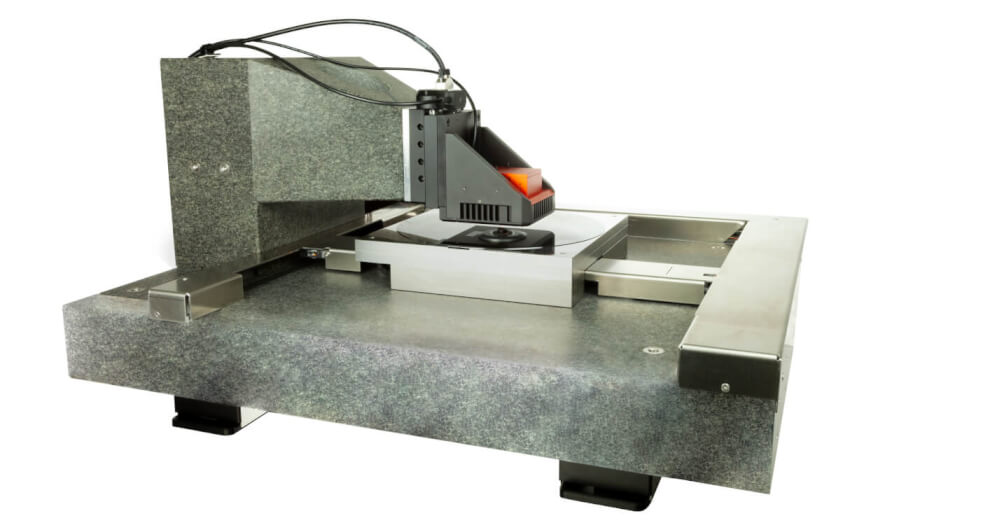 The Alphacen 300 stage allows measurement on every point of a 300 mm x 300 mm sample
Heavy glass samples
Most large sample AFMs are capable of handling planar samples up to 200 mm, typically geared toward analysis of semiconductor wafers. However, one of the limitations of these systems is the sample weight that they can handle.
Alphacen 300 addresses the need for a standard AFM capable of imaging large and heavy samples with a weight limit of up to 45 kg. The Z-stage travel of 50 mm also allows for imaging of samples that are not thin silicon wafer.
Large, heavy samples are quite commonplace in the optical industry, e.g. in the production of large lenses and semiconductor industry, e.g. assembled cassettes or completed products.
Large samples
The Alphacen 300 AFM system has a sample stage that can move 300 mm x 300 mm in XY and can measure every point on 300 mm sample. On request, the stage can be modified to handle a larger range in X (up to 500 mm).
The XY stage has a resolution of 1 µm and a unilateral repositioning accuracy of 2 µm which allows for precise positioning of the sample under the imaging tip.
The software's integrated automation feature enables time saving pre-programming of measurement series.
System dimensions