Used atomic force microscopes: demo systems
The atomic force microscope has become a common tool for material characterization alongside optical and electron microscopy, achieving resolutions down to the nanometer scale and beyond. The AFM can operate in environments from ultra-high vacuum to fluids, and therefore cuts across all disciplines from physics and chemistry to biology and materials science.
Nanosurf AFMs includes a wide variety of methods in which the probe interacts with the sample in different ways in order to characterize various material properties. AFM can characterize a wide array of mechanical (e.g. adhesion, stiffness, friction, dissipation), electrical (e.g. capacitance, electrostatic forces, work function, electrical current), and magnetic properties. In addition to imaging, AFM can be used to deposit, manipulate and write in lithography experiments and measure interaction forces in molecular pulling experiments.
When first considering the purchase of any kind of scanning probe microscope, budget is likely to be a major factor. In some cases, funding will not be available for a brand-new system that meets your research needs. In this case you might be tempted to search for a second-hand used instrument to find an affordable AFM. Nanosurf does not broker used AFMs, and we do not recommend that researchers buy used AFMs from unofficial channels because of a lack of support and service.
Nanosurf provides a range of research-grade AFMs that have a long-life span, often remaining in use for well over a decade. This means that second-hand AFMs by Nanosurf can be hard to find. One option Nanosurf can offer you is the purchase of a system formerly used by our sales and support scientists for demonstrations. Demo systems are usually fully equipped, capable of the full range of measurement modes, and they are fully tested and certified. Vibration isolation and acoustic enclosures are often included in the offer. These demo systems are also sold with our standard one-year warranty.
Because these instruments are second-hand atomic force microscopes, Nanosurf is able to offer them at a considerable discount on the list price. This makes them an excellent choice for researchers who would like to use an AFM for their research but are budget limited.
If you are looking for an affordable AFM to measure your sample's surfaces, check out our different instruments' pages. See for yourself how atomic force microscopy can provide you with high resolution images, down to showing atomic resolution.
Several demo systems become available each year. If you are interested, the following models are most likely to be available for purchase:
The FlexAFM has been the instrument of choice for hundreds of researchers in need of a reliable and versatile atomic force microscope system. Built with ease of use and configurability in mind, the capabilities of the FlexAFM cover most research needs: Configure your FlexAFM for 2D materials research in a glovebox, or integrate it with your inverted optical microscope for biological applications - no matter what your research goals are, the Nanosurf FlexAFM provides you with an affordable mid-range instrument that you can expand and upgrade as your requirements evolve.

Read more

The CoreAFM is the result of intelligently combining the core components of AFM to achieve maximum versatility and user-friendliness. Thirty-two standard and optional modes with fully compatible add-ons make the CoreAFM the tool of choice for applications ranging from materials research to life science and electrochemistry.

Read more

The NaioAFM is the ideal atomic force microscope for nanoeducation and basic research on small samples. This all-in-one AFM system provides solid performance and easy handling, with a price tag and footprint that fit anyone and any place.

Read more
FlexAFM measurement example: Topography of SrTiO3 in dynamic mode
Strontium titanate (SrTiO3, STO) is an oxide of titanium and strontium exhibiting a perovskite structure. It has interesting and partly unique material properties. It is used as substrate for growth of oxide-based thin films and high-temperature superconductors.
STO forms surfaces that show a layered structure. The thickness of individual layers is in the range of a few Angstrom. Atomic force microscopy is an ideal tool to image and measure these structures.
CoreAFM measurement example: Kelvin probe force microscopy (KPFM) on graphene
Multilayer graphene flakes were generated by mechanical exfoliation of graphite and subsequent transfer to a silicon-silicondioxide substrate. The KPFM measurement was carried out in single-run mode, recording the contact potential during the scanning of the topography.

Thin flakes were localized on the substrate with an upright microscope. Using markers on the substrate, the same flakes were placed under the cantilever using the topview camera of the CoreAFM, after which AFM images of graphene and KPFM data were recorded.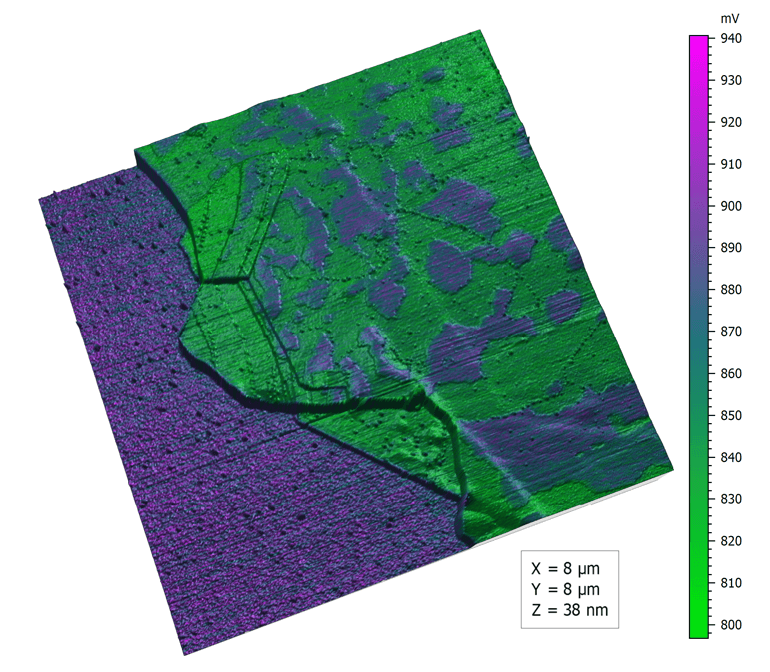 NaioAFM measurement example: phase image of a polymer blend
This is an example of AFM phase imaging of a polymer blend performed on a NaioAFM. The polymer blend consists of polystyrene (PS) and polybutadiene (PB)deposited on silicon. PS forms islands within the PB matrix.. Phase response shown as color overlay on the 3D topography. Small inclusions of PB can be identified within the PS island by the phase signal.
Data processing: Gwyddion
Image size: 20 µm
Phase range: 15 degrees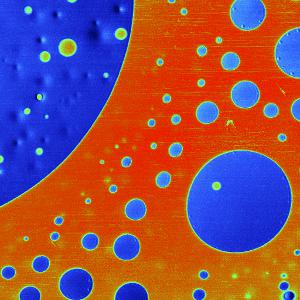 To find out more about the price range of atomic force microscopes, please read our article on "How much does an atomic force microscope cost?".